Building Organizations. Developing People.




Accountability Partners is a consulting firm with decades of experience in driving profitable sales growth. We assist executives in creating and managing rapid growth, implement best practices in sales and marketing, hire the people, diagnose systemic obstacles hindering growth and align sales, marketing and finance together to drive greater valuation. We achieve this through using multiple tools and engagement methods, customized for each individuals specific goals and current state.

---



Sales Baseline
Assessments
Find out what your
team is thinking. Graphs show where people agree and disagree, make it easier to build consensus. Learn more about Sales Baseline...

Fill the Funnel!

Join us each month
as we track critical
marketing specific
KPI's and share best
practices using todays ever-evolving marketing tools. Learn more at this link - Filling the Funnel Marketing Group...

Empty the Funnel!

Join other sales
managers as we track
critical sales specific
KPI's and share approaches to increasing sales results. You'll walk away after each session with a better plan and will also enjoy increasing your personal network of successful sales executives. Learn more at this link - Empty the Sales Funnel!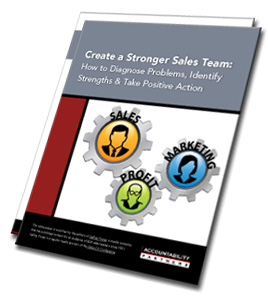 Crain's Chicago Business
How we assisted a rising start-up double its sales in six months and stream ​line sales operations.
Learn more​
Inc. Magazine
Accountability Partners helped grow Savid Technologies' sales by 400 percent in 2 years.​
Learn more​